Caterpillar Electronic Technician On-Highway Software, Refurbished Panasonic CF-31 & Interface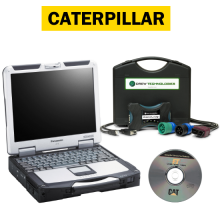 Panasonic CF-31 Toughbook 
Refurbished CF31 (no dings or scratches) w/ Intel Core i5
2.4 GHz Intel i5 Processor
8 GB RAM
128GB Solid State Hard Drive
32 bit Win 7
13.1 XGA Daylight Touchscreen Screen
1 year warranty
Standard DrewLinQ® Interface Kit
The Kit for Complete RP1210 Support includes:
DrewLinQ® device
6/9 Deutsch Y Cable
Volvo 2013+ Cable
Crossover Cable
USB Cable
CAT ET Software Subscription (On-Highway)
Caterpillar Electronic Technician (Cat ET) is diagnostic software required to communicate, diagnose and service electronically controlled Caterpillar engines and machines. When connected to an Electronic Control Module (ECM), a technician has the ability to diagnose existing and potential problems, configure the product, and obtain data for analysis.
CAT ET Features:
Displays parameter status
 Displays active diagnostics
 Clear and view logged diagnostics
 Performs diagnostic tests
 Print reports and diagnostic results
 Perform calibrations
 Displays current totals information, i.e. fuel consumption, operating hours, etc.
 Integration to help files
 Creates engine warranty reports
Software license requires annual renewal.
Diesel Diagnostic Equipment was founded in 1999 on the principal of providing quality diagnostic equipment to the professional medium & heavy-duty truck technicians.