Navistar Engine Diagnostic Software, Refurbished Panasonic CF-31 & Interface
* Down payment due at signing, dependent on successful credit application. Contact us today for more information.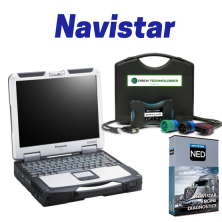 Laptop Computer
The refurbished Panasonic Toughbook 31 is powered for today's user. This refurbished Toughbook has the same great functionality as a new fully rugged laptop but it is now a fraction of the price! Featuring an Intel Core i5 2.4GHz processor this refurbished Toughbook is super fast, coupled with a brand new 128GB Solid State Drive and 8GB RAM your Toughbook 31 can boot up quickly. The Refurbished Toughbook 31 is MIL STD-810G ruggedized, from wind to rain, dust to salt water, bumps and bangs it can go where you go! These computers are in new or almost new appearance with no scratches or dents.
______________
Refurbished CF31 (no dings or scratches) w/ Intel Core i5
2.4 GHz Intel i5 Processor
8 GB RAM
128GB Solid State Hard Drive
32 bit Win 7
13.1 XGA Daylight Touchscreen Screen
1 year warranty
______________
Diagnostic Software
Navistar Engine Diagnostic software is the factory software for diagnostics and programming for Navistar® Engines.  Navistar Engine Diagnostic software covers a wide range of diagnostic support for MaxxForce engines. Coverage includes all International MaxxForce (2007 & later) electronic engines.  This software updates periodically, enabling you to have the latest coverage.  As an added bonus we will supply the pre-2007 engine diagnostic software at no charge.  We'll also install the software remotely.
Basic Features
Read Fault and clear diagnostic fault codes
View, graph and save engine data
 Advanced Features
Diagnostic Tests
KOEO – Key On Engine Off
KOER – Key On Engine Running
KOEO – Injector Buzz Test
KOER – Injector Contribution Test
Cylinder Cutout Test (EPA 04′ and newer)
Injector Disable Tests (EPA 04′ and newer)
Display and change configurable Parameters
Crank Inhibit
Fan Control
Idle Shutdown Timer
Warm-up Device
Warning and Protection System
Hydraulic Pressure Governor
PTO Control
Radiator Shutter
Vehicle Speed Limit
Vehicle Retarder
Two Speed Axle
Traction Control
Standard DrewLinQ® Kit
This Package includes:
DrewLinQ® device RP1210
6/9 Deutsch Y Cable
Volvo 2013+ Cable
Crossover Cable
USB Cable