Cummins Insite Lite Kit with Dell 6440 Laptop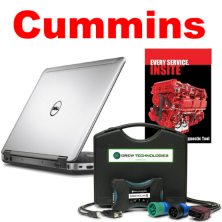 Cummins INSITE Lite:
INSITE Lite performs engine diagnostics and displays electronic engine information on your PC. With step-by-step diagnostics, built-in engine drawings and schematic diagrams, working with INSITE is easy. Using this software application will reduce troubleshooting time, errors and incorrect procedures and quickly get your vehicle back on the road again.
Features:
• Quick access to trip information
• Adjust parameters
• Review/clear fault information
Easy-to-follow troubleshooting assistance
• Wiring and sensor location diagrams
• Store engine and trip information for future use, or as programming templates
12 month subscription
Note: We will remotely install & activate your software at no extra charge.
Standard DrewLinQ® Interface Kit
The Standard DrewLinQ Interface Kit for Complete RP1210 Support includes:
DrewLinQ® device
6/9 Deutsch Y Cable
Volvo 2013+ Cable
Crossover Cable
USB Cable
Dell Latitude E6440 Semi-Rugged Laptop
Refurbished Dell Latitude E6440 w/ Intel Core i3
2.26 GHz  Processor
4 GB RAM (upgradable to 8 GB or 16 GB)
160 GB HD (upgradable to 320 GB or 500 GB)
32 bit Win 7
CDRW/DVD
13.1 XGA Daylight Touchscreen Screen
90 day warranty