Cummins Insite Lite w/ Dell Latitude E6440 Laptop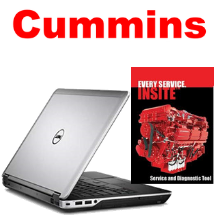 Cummins INSITE Lite:
Cummins INSITE version 8 is a PC-based software application that provides quick and easy access to your engine's electronic performance information. This enables faster service turnaround times. INSITE helps ensure accurate diagnoses and limits downtime while increasing productivity and profits.
Cummins INSITE software supplies engine information quickly, getting the inside details you need. No matter what kind of equipment you run, INSITE is the one support product to have in your virtual toolbox to fit every Cummins electronic engine.
INSITE can provide your business with:
• Trip and vehicle information
• Parameter and feature adjustment
• Complete wiring diagrams and sensor location maps
• Fault-related information
• Fault code and symptom-based diagnostics
• Engine diagnostic tests (Injector cut-out, EGR valve, turbo, etc…)
• Tools to create templates for a group of vehicles
• Audit trail information
• Enhanced Electronic Control Module (ECM) security
• Work orders
• Built-in help & troubleshooting
• VGT calibrations
• Graphical monitoring
Cummins Insite works with adapters that utilize both J1939 and J1708.
During your subscription period you are eligible for free updates through Cummins Update Manager. Your annual subscription also includes free technical support from Cummins.
NOTE: This license will work on all year Cummins on-highway trucks, with the exception of Dodge.
12 month subscription
Note: We will remotely install & activate your software at no extra charge.
Dell Latitude E6440 Semi-Rugged Laptop
The most common complaint among technicians has been that the Cummins Insite software takes a long time to open. We've heard stories from mechanics who have had low powered laptops stating that it takes their computer up to 5 minutes to open Insite. Once they have purchased this computer, the start time has decreased to an average of only 20 seconds. This computer is specifically designed to open and run heavy duty programs as quickly as possible.
Refurbished Dell Latitude E6440
2.7 GHz  Processor w/ Intel Core i5
16 GB RAM
160 GB HD (upgradable to 320 GB or 500 GB)
CDRW/DVD
13.1 XGA Daylight Touchscreen Screen
1 year limited warranty