Detroit Diesel Standard Software & Refurbished Panasonic CF-31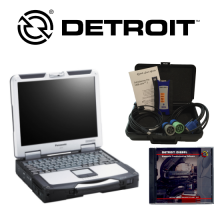 OVERVIEW
Factory Detroit Diesel Standard software installed & authorized onto a refurbished Panasonic CF-31 computer.  The computer is in "new" or "like new" condition, no dings or scratches.
Computer Specs:    
Refurbished CF31 (no dings or scratches) w/ Intel Core i5
2.4 GHz Intel i5 Processor
8 GB RAM
128GB Solid State Hard Drive
32 bit Win 7
13.1 XGA Daylight Touchscreen Screen
1 year warranty
Software Information:
 

DiagnosticLink™ is a computer-based diagnostic software for Detroit™ powertrain and Freightliner™ Cascadia™ vehicle systems. It can display ECU information, diagnostic fault codes, troubleshooting information, instrumentation and run service routines*.  This version includes the abilty to edit & reprogram the ECU**.

*Certain features are available for authorized users only

** Reprogramming requires the purchase of reprogram file
Users can use DiagnosticLink Standard to:
View information about the connected ECUs
Perform standard fault code operations
Perform traditional and advanced troubleshooting
Read variable values in real time and display them graphically.
Configure and manage parameters
Perform service routines
Play back logs of all connected activity.
Interface Information
This USB Link 2 is a PC-to-vehicle interface compatible with multiple software applications, minimizing your investment in multiple brand-specific diagnostic interfaces.  Connected to the truck in two methods using a cable connection from the USB Link to the engine / transmission / ABS system.  This is the latest Nexiq interface & is required when connecting to PACCAR Davie 4 or DDDL 8.0 when connecting to Freightliner Cascadia body modules.
Compatible with applications that diagnose engines, transmissions, ABS, instrument panels and more
Reduce reprogramming times with direct (wired) USB connection
Mixed fleet capabilities with broad protocol support
Quick access to vehicle data for maintenance or management reports
FEATURES: 
RP1210A, RP1210B, and J2534 API support
Bluetooth vehicle-to-PC wireless connectivity
USB vehicle-to-PC connectivity
Protocol coverage for automotive to heavy duty vehicles:
CAN – J1939 / CAN125 / CAN250 / CAN500 / CAN1000
2nd CAN – J1939 / CAN125 / CAN250 / CAN500 / CAN1000
Automatic bit rate detection for both CAN channels
J1587 / J1708
J1850
ISO 15765 (Diagnostic CAN)
ISO 14230 (KWP2000 over ISO9141)
J2534
ALDL
ATEC 160 (160 baud)
Light Emitting Diodes show power, data and fault detection