Detroit Diesel Standard Software with Dell Laptop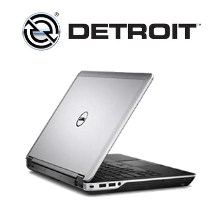 Latest factory Detroit Diesel Standard software installed & authorized onto a refurbished Dell Latitude E6440 semi-rugged computer.  The computer is factory refurbished and has a MIT-STD810 rating.
Computer Specs:    
Processor: Intel i3 (upgradable to i5 or i7)
O/S: Win 7 Pro, 32 or 64 bit
RAM: 4 GB (upgradable to 8 GB OR 16 GB)
Display: 14 " Anti-Glare
Optical Drive: DVD-ROM
Hard Drive: 250 GB (or higher) Solid State HD upgrade available
Warranty: 90 day warranty
MIL-STD Rating: 810G
Software Information:
DiagnosticLink™ is a computer-based diagnostic software for Detroit™ powertrain and Freightliner™ Cascadia™ vehicle systems. It can display ECU information, diagnostic fault codes, troubleshooting information, instrumentation and run service routines*.  Includes the latest DDDL 8 series (2007 +) and also the 6.5 series (pre-2007)  software.
*ECU access is based on Organization type
Coverage
Cylinder Exhaust Temperatures
Engine Speed
Engine Smoke Control
Boost Pressure
Engine Load Percent
Beginning of Injection
Oil Temperature
Fuel Temperature
Air Inlet Temperature
Turbo Compressor Outlet Temperature
EGR Temperature A
EGR Differential Pressure A
EGR Temperature B
EGR Differential Pressure B
EGR DPS Counts
EGR Mass Flow Rate
Barometric Pressure
Turbo Speed
Accelerator Pedal Position
Battery Voltage
Active Governor
Torque Reduction Percentage
Vehicle Speed
PWM 1 (% Grounded)
PWM 2 (% Grounded)
PWM 3 (% Grounded)
PWM 4 (% Grounded)

ENGINE CONFIGURATION

Engine Speed
ECM Date
ECM Time
Engine Model #
6N4M #
6N4D #
6N4C #
Engine Serial Number
ECM Serial Number
Software Level
EPA Certification #
Engine Series
Shared Version
Rating Version
Rated Engine Horsepower
Rated Engine Speed
Low Speed Governor RPM
Peak Torque
RPM at Peak Torque
Idle Speed RPM
Transmission Type
Data Pages
J1922 ABS Communications
J1922 Transmission Communications
J1939 Communications
Water Pressure Governor
Air Pressure Governor
A/C Fan Timer
Low Gear Torque Limit
Low Gear Torque Limit Threshold
Low Gear Torque Limit Set Speed

ENGINE LIFE TOTALS

Avg. Engine Load While Driving
Cruise Control Hours
Engine Brake Hours
Engine Revolutions
Fuel Used
Fuel Used During Idle
Variable Speed Governor Fuel
Idle Hours
Time Saved Using Optimized Idle
Fuel Saved Using Optimized Idle
Engine Hours
Preventative Maintenance A – % Left
Preventative Maintenance B – % Left
Preventative Maintenance C – % Left
Variable Speed Governor Hours
Odometer

ENGINE TRIP DATA

Average Engine Load While Driving
Cruise Control Hours
Engine Brake Hours
Average Fuel Economy
Fuel Used
Fuel Used During Idle
Variable Speed Governor Fuel
Fuel Used During Trip
Idle Hours
Fuel Saved Using Optimized Idle
Time Saved Using Optimized Idle
Trip Hours
Odometer
Variable Speed Governor Hours

ESS TRANSMISSION CONFIGURATION

Transmission Type
Late Gear Change Enabled
Second Chance Shift Enabled
Engine Brake Shift Enabled
Skip Shift Enabled

ESS TRANSMISSION PERFORMANCE

Output Shaft Speed
Target Gear
Current Gear
Shift Knob Counts
System Switch
Shift Intent
Break Torque
Neutral Switch
In Gear Switch
High Gear Range Solenoid
Low Gear Range Solenoid

ESS TRANSMISSION TRIP DATA

Number of Shifts By Transmission
Number of Aborted Shifts
Number of Shifts by Driver

EXHAUST BACK PRESSURE FAULT TIMES

Exhaust Back Pressure Scaled High Time
Exhaust Back  Pressure Ramp Down time

INJECTOR RESPONSE TIMES

IDLE OPTIONS

Ambient Temperature Lower Limit
Ambient Temperature Upper Limit
Auto Override Enabled
Driver Alert
Enabled on Variable Speed Governor
Engine Has Shutdown By Idle Timer
Idle Shutdown
Timer Override
Timer Status

INDICATORS

Natural Gas Fuel System Loop Status
Turbocharger Bleed Valve
Coolant Level
Engine Brake
Oil Level
Half Engine Mode
Active Governor
Knock Control
Engine Smoke Control

MAINTENANCE ALERTS

Oil Level Restriction
Coolant Level Restriction
Air Filter Restriction
Oil Filter Restriction
Fuel Pump Inlet Restriction
Preventative Maintenance A – % Left
Preventative Maintenance B – % Left
Preventative Maintenance C – % Left

MECHANICAL

Accelerator Pedal Position
Beginning of Injection
Blower Bypass Valve Opening
Engine Brake Percent
Engine Load Percent
Injection Pump Usage
Fuel Economy
Engine Torque
Adjusted Vehicle Speed
Throttle Percent
Throttle Position Counts
Torque Reduction Percentage
Variable Speed Governor Counts
Vehicle Speed Sensor Pulses
Vehicle Speed Sensor Ratio

MISCELLANEOUS

Exhaust Gas Air/Fuel Ratio
Knock Level
Natural Gas Fuel System Loop Status
Relative Humidity

OPTIMIZED IDLE

Optimized Idle System Active
Optimized Idle Thermostat Control Mode
Optimized Idle Alarm Mode
Optimized Idle Starter Relay

PRESSURES

Air Filter Differential Pressure
Air Inlet Temperature
Atmospheric Pressure
Boost Pressure
Coolant Level
Crankcase Pressure
Coolant Pressure
Cylinder Boost Differential Pressure
Exhaust Back Pressure
External Water Pump Pressure
Fuel Pump Differential Pressure
Fuel Pressure
Oil Filter Differential Pressure
Oil Pressure
Cruise Control Pressure Set Point

PWMs

SPEEDS

Adjusted Vehicle Speed
Cruise Control Set Speed
Engine Speed
Engine Idle Speed
Turbo Speed
Vehicle Speed
Variable Speed Governor Set Speed

TEMPERATURES

Air Inlet Temperature
Ambient air Temperature
Coolant Temperature
Intercooler Temperature
EGR Temperature A
Fuel Temperature
Intake Air Temperature
Oil Temperature
EGR Temperature B
Turbo Compressor Inlet Temperature
Turbo Compressor Outlet Temperature
TOP 2 TRANSMISSIONS
Top 2 Cruise Switch

TURBO CHARGER

Blower Bypass Valve Opening
Boost Pressure
Intercooler Temperature
Sequential Turbo Mode
Turbo Compressor Inlet and Outlet Temperature
Turbo Speed

VOLTAGES

Battery Voltage
Knock Sensor Voltage
RTC Backup Battery Voltage
Sensory Supply Voltage
Manufacturer reserves the right to make changes without prior notice
Protocol coverage for automotive to heavy duty vehicles:
CAN – J1939 / CAN125 / CAN250 / CAN500 / CAN1000
2nd CAN – J1939 / CAN125 / CAN250 / CAN500 / CAN1000
Automatic bit rate detection for both CAN channels
J1587 / J1708
J1850
ISO 15765 (Diagnostic CAN)
ISO 14230 (KWP2000 over ISO9141)
J2534
ALDL
ATEC 160 (160 baud)
Light Emitting Diodes show power, data and fault detection