Detroit Diesel Standard Software with Panasonic CF-31 Laptop
* Down payment due at signing, dependent on successful credit application. Contact us today for more information.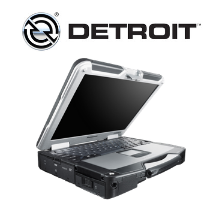 OVERVIEW
Factory Detroit Diesel Standard software installed & authorized onto a refurbished Panasonic CF-31 computer.  The computer is in "like new" condition, no dings or scratches.
Computer Specs:    
Refurbished CF31 (no dings or scratches) w/ Intel Core i5
2.4 GHz Intel i5 Processor
8 GB RAM
128GB Solid State Hard Drive
32 bit Win 7
13.1 XGA Daylight Touchscreen Screen
1 year warranty
Software Information:
 

DiagnosticLink™ is a computer-based diagnostic software for Detroit™ powertrain and Freightliner™ Cascadia™ /  Western Star 5700EX vehicle systems. It can display ECU information, diagnostic fault codes, troubleshooting information, instrumentation and run service routines*.  This version includes the ability to edit the ECU.

*Certain features are available for authorized users only
Users can use DiagnosticLink Standard to:
View information about the connected ECUs
Perform standard fault code operations
Perform traditional and advanced troubleshooting
Read variable values in real time and display them graphically.
Configure and manage parameters
Perform service routines
Play back logs of all connected activity.