Eaton ServiceRanger 4 with Panasonic CF-31 Laptop
* Down payment due at signing, dependent on successful credit application. Contact us today for more information.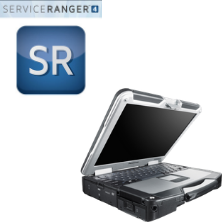 Eaton ServiceRanger 4
ServiceRangers 4, the next-generation computer diagnostics and service tool designed for support of all Eaton automated transmission and hybrid powertrain systems.
Features and benefits of ServiceRanger 4 include:
Viewing active and inactive fault codes to quickly identify issues and link directly to troubleshooting procedures;
Creating and reviewing service activity reports automatically to improve communication between the technician and customers;
Running specialized tests to quickly identify hard-to-determine issues;
Viewing and editing configuration parameters to keep vehicles optimized for changing needs and preferences;
Updating product software to improve performance and enable new features;
Viewing all service information on Eaton products to quickly remove and install components;
Automatic updates that provide information on the latest Eaton products, service information and software updates.
Panasonic CF-31 Toughbook 
Refurbished CF31 (no dings, dents or scratches)
2.4 GHz Intel i5 Processor
8 GB RAM
128GB Solid State Hard Drive (optional 500 GB)
Win 10 Pro
13.1 XGA Daylight Touchscreen Screen
1 year warranty