Hino DX2 With Panasonic Laptop with Interface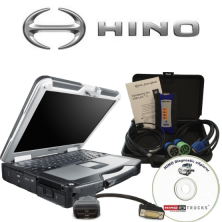 Hino  DX2 Diagnostic/Troubleshoot/Customization
The Hino DX2 program will communicate with all 2005-2019 Hino trucks distributed throughout the United States and Canada only. We will, at no extra charge, remotely install, authorize & set-up this software on up to 2 separate computers.  Yes, that's 2 for the price of one.
Troubleshooting:
Reading DTCs
Diagnostic and Troubleshooting workflow
Check and Activation Tests for engine components
Data Monitor function for recording engine/system operation
Customization:
Configure user specific features such as:
Idle Shutdown
PTO settings
Vehicle/Cruise Speed settings
Engine Protection settings
Maintenance Intervals
System Protection data reset
Special Learning for new engine components
Injector Calibration Codes
Reset DPR system related memory
Reset SCR system related memory
Setting:
Print setting
Communication/Interface setting
Language setting
Unit setting
View setting
Past Work Information:
DTC reports
Vehicle Information reports
Diagnostic Workflow reports
Panasonic CF-31 Toughbook 
Refurbished CF31 (no dings, dents or scratches)
2.4 GHz Intel i5 Processor
4 GB RAM
320 GB  Hard Drive
Windows 10 Pro
13.1 XGA Daylight Touchscreen Screen
1 year warranty
Be cautious of under capacity computers that don't meet the Hino's DX2 specifications.  Our computer meets and exceeds the specifications for Hino DX2.
Nexiq USB  Link 2 Interface
This USB Link 2 is a PC-to-vehicle interface compatible with multiple software applications, minimizing your investment in multiple brand-specific diagnostic interfaces.  Connected to the truck in two methods using a cable connection from the USB Link to the engine / transmission / ABS system.  This is the latest Nexiq interface & is required when connecting to PACCAR Davie 4 or DDDL 8.0 when connecting to Freightliner Cascadia body modules.
Compatible with applications that diagnose engines, transmissions, ABS, instrument panels and more
Reduce reprogramming times with direct (wired) USB connection
Mixed fleet capabilities with broad protocol support
Quick access to vehicle data for maintenance or management reports
OBD2 Cable for Nexiq USB Link 2
Hino
Mack
Volvo
GM
Ford
Dodge
Isuzu
OBD2 connector cable for use with the Nexiq USBLink 2 only.
Please note that it's not compatible with the original USBLink.
Diesel Diagnostic Equipment was founded in 1999 on the principal of providing quality diagnostic equipment to the professional medium & heavy-duty truck technicians.