Isuzu IDSS / Panasonic CF-31 Laptop Package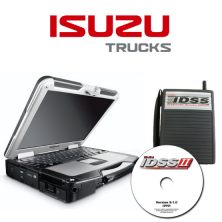 Isuzu Model Coverage:
NPR (gas & diesel)
NQR /NRR
FRR / FSR / FTR / FVR
4HE-1
4HK-1 Duramax engine
4JJ-1
6HK-1 Duramax engine
Propane
Propane 6.0
Hybrid
Also covers GMC & Chevrolet equivalent trucks
Includes:
Refurbished Panasonic CF-31 Toughbook (with 1 year warranty)
VCI Module (interface)
USB Cable
OBD2 Cable
Software Disk & Authorization Code
6 Months of Free Updates
Panasonic CF-31 Toughbook 
Refurbished CF31 (no dings, dents or scratches)
2.4 GHz Intel i5 Processor
8 GB RAM (optional 16 GB RAM)
256 GB Solid State Hard Drive
Windows 10 Pro
13.1 XGA Daylight Touchscreen Screen
2 year warranty
Be cautious of under capacity computers that don't meet the specifications for Isuzu IDSS II.  Our computer meets and exceeds the specifications for Isuzu IDSS.
Diagnostic Coverage:
ECM (engine control module)
TCM (transmission control module)
ABS (anti-lock brake system)
BCM (body control module)
Software capability:
View fault codes &  fault code troubleshooting procedures
View Service Manuals
View Wire Diagrams
View Technical Service Bulletins
Diesel Particulate Filter (DPF) Regeneration
Location Chart of Fuse Panel, Relays, Connections, etc.
Reset injector codes into the ECM when injectors are replaced
Reprogram ECM units (all ECM files are installed onto your computer)
Adjust idle speed (6HK engine only)
Control emergency engine shutdown due to:

Engine temperature
Oil pressure
Oil level
Coolant level
Engine overspeed
High exhaust temperature
Overspeed
High EGR temperature

PTO set-up control **
Adjust vehicle speed limit
Exhaust brake mode adjust to:

Manual
Coast
Latch position
Cruise control options

Lock-out (driver cannot engage)
Minimum speed
Maximum speed
Relaxed cruise control (allows speed to vary by 5 mph to minimize transmission wear)

Engage/disengage engine oil change lamp
PTO set-up control **

Stationary operation
Mobile operation
Remote PTO operation including speed adjustment
Allow DPF regeneration while using PTO

Allows for 24/7 download of latest Isuzu Truck updates on ECM updates, latest TSBs, file changes and more (with active subscription)
**2005 & newer Isuzu truck wire harnesses are built with PTO installation in mind.  All necessary plugs are located throughout the vehicle and are pre-connected to the ECM.  This facilitates the installation & use of a PTO.  The IDSS allows the technician to make PTO settings through the ECM.  This allows for a clean, professional installation.