Jaltest Commercial Vehicle Software/Hardware Package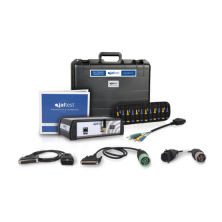 Whether you are working on tractors, straight trucks, trailers or reefers, Jaltest Commercial Vehicle Diagnostic Software has you covered.  It is the premier software on the market.  Used with Jaltest Info Online you've unleashed an incredibly powerful diagnostic tool.  Fast connection & code retrieval, place the cursor on the fault code & you'll get a drop-down box with the troubleshooting procedure along with pictures of the faulty device showing pin testing & test parameters.  Need wire diagrams?  It's built into Jaltest Info Online.  Diagnostics made easy.  Minimize downtime, maximize profits, go Jaltest!
Jaltest Commercial Vehicle Diagnostic Software package provides the most comprehensive truck software on the market.  This is your single shop solution for performing diagnostics on the commercial vehicles.
Ask about expert mode!
Jaltest Advantages
Replaces the need for OEM and aftermarket software requirements for class 3-8 covering (and most class 1-2) over 100 vehicle and component manufacturers.  Keeps it simple for you & your technicians.
Requires only a single annual renewal.  Rather than renewing multiple pieces of software, why not just renew one?
Jaltest is updated 3 times per year, assuring you the latest information & diagnostics
Coverage:

Trucks /Tractors (USA, Japan, Europe)
Engine Modules
Transmission Modules
ABS Modules (tractors & trailers)
Body Modules
More

Includes:

400,000 DTCs
18,000 Wiring Schematics (including

Freightliner & Kenworth

!)
60,000 Diagnostic Trouble Shooting Routines by Symptom
50,000 Bi-Directional Tests and Parameter Resets
19,000 Trouble Shooting Guides Linked to DTCs
8,000 Calibrations
Hundreds of Thousands of Technical Specifications.

It has the same user interface, navigation and functionality regardless of vehicle or components.
Includes the software to diagnose reefer units & trailer ABS.
Provides ongoing diagnostic reports that can be registered to your customers and accessed by your management via a cloud-based storage system.
Eliminates the need of technical support and procurement services associated the OEM software requirements experienced by your technicians' current diagnostic platform, saving a tremendous amount of upfront and ongoing costs.
Coverage for these engine/vehicle/component modules:
On-Highway Trucks

AutoCar
Hyundai
Mercedes-Benz
UD Trucks
Caterpillar
International / Navistar
Mitsubishi Fuso
Volkswagen
Daewoo
Isuzu
Nissan
Volvo USA
Ford
Iveco
Oshkosh
Western Star
Freightliner
Kalmar Ottawa
Peterbilt
Workhorse
GM
Kenworth
Pierce
Hino
Mack
Sterling
Trailer
Bendix
Haldex
Meritor WABCO
Wabash
Reefer Units
Carrier
Thermo-King
School Bus
BlueBird
Daewoo
Ford Custom Chassis
Freightliner Custom Chassis
GM
Gillig
IC (International)
Hyundai
Thomas Bus
MCI
Transit Bus / Coach
Mercedes-Benz
Orion
Mitsubishi-Fuso
Prevost
Nabi
Van Hool
New Flyer
Volvo
Nova Bus
Volkswagen
Light Commercial Truck
Dodge
Isuzu
Fiat
Mercedes-Benz
Ford
Mitsubishi-Fuso
Foton
Nissan
Freightliner
Sterling
GMC / Chevrolet
Toyota
Hino
UD Trucks
Hyundai
Volkswagen
Vehicle Component Manufacturers
Allison
Eaton
Mercedes-Benz
Wabash
Bendix
Freightliner
Meritor WABCO
WABCO
Bosch Rexroth
Haldex
MWM
ZF
Caterpillar
Hino
Navistar International
ZF Meritor
Cummins
Isuzu
PACCAR – MX
Daimler Trucks
Iveco
Voith
Detroit Diesel
Mack
Volvo
The Jaltest commercial vehicle package includes:
Jaltest Commercial Vehicle Software
Jaltest Commercial Vehicle Annual Subscription
Jaltest Info Online Annual Subscription
Jaltest Link (interface) Adapter Kit, includes:

 Jaltest link (interface)
J-1708 adapter
J-1939 adapter
OBD2 adapter
Multi-pin set
Fully-Rugged Carry case
---
Diesel Diagnostic Equipment was founded in 1999 on the principal of providing quality diagnostic equipment to the professional medium & heavy-duty truck technicians. 
All product and company names/logos are trademarks™ or registered® trademarks of their respective holders. Use of them does not imply any affiliation with or endorsement by them.