Navistar Engine Diagnostic Software with Dell Laptop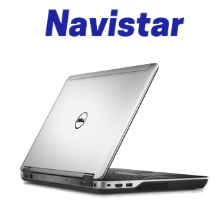 Computer Specs:
Processor: Intel i3 (upgradable to i5 or i7)
O/S: Win 7 Pro, 32 or 64 bit
RAM: 4 GB (upgrade option to 8 GB or 16 GB)
Display: 14 " Anti-Glare
Optical Drive: DVD-ROM
Hard Drive: 250 GB  (Solid State HD upgrade available)
Warranty: 90 day warranty
MIL-STD Rating: 810G
Diagnostic Software
Navistar Engine Diagnostic software is the factory diagnostic and programming software for Navistar® Engines.  Most importantly, Navistar Engine Diagnostic software covers a wide range of diagnostic support for MaxxForce engines. Coverage includes all International MaxxForce (2007 & later) electronic engines.  Furthermore, the software updates periodically, enabling you to have the latest coverage.  Finally, as an added bonus, we will supply the pre-2007 engine diagnostic software at no charge since we know that there are still many pre-2007 on the road.  We'll also install the software remotely.
Basic Features
Read Fault and clear diagnostic fault codes
View, graph and save engine data
 Advanced Features
Diagnostic Tests
KOEO – Key On Engine Off
KOER – Key On Engine Running
KOEO – Injector Buzz Test
KOER – Injector Contribution Test
Cylinder Cutout Test (EPA 04′ and newer)
Injector Disable Tests (EPA 04′ and newer)
Display and change configurable Parameters
Crank Inhibit
Fan Control
Idle Shutdown Timer
Warm-up Device
Warning and Protection System
Hydraulic Pressure Governor
PTO Control
Radiator Shutter
Vehicle Speed Limit
Vehicle Retarder
Two Speed Axle
Traction Control
NOTE: To diagnose specific electronic control system failures, always refer to the diagnostic manual
for the system being serviced.  For a full list of applicable OEM manuals visit Truckmanuals.com
Along with this software we include a user guide at no cost to you.  This helps technicians quickly maximize the software capability & increase profit.
Navistar Engine Diagnostic Software
Diesel Diagnostic Equipment was founded in 1999 on the principal of providing quality diagnostic equipment to the professional medium & heavy-duty truck technicians. 
All product and company names/logos are trademarks™ or registered® trademarks of their respective holders. Use of them does not imply any affiliation with or endorsement by them.