PACCAR Davie 4 Diagnostic Laptop Package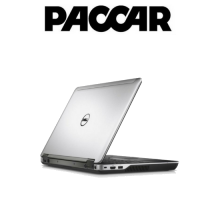 PACCAR MX engine factory diagnostic software & hardware package.  Covers Paccar MX engines thru present model year.  Software installed & authorized prior to shipment to your location.  Once it arrives at your facility it is ready to use.  Paccar technical support is included at no extra charge.  Available software updates are can be downloaded whenever the DAVIE 4 is opened.
Paccar MX4 Fleet Software consists of:
PACCAR Davie 4 Software (installed & authorized)

Refurbished Dell Latitude Semi-Rugged Computer (90 day warranty)

USBLink 2 Interface
USB Cable
9 Pin Cable
Capabilities:
Perform and read all diagnostic tests

Enable Progressive Shifting

Enable Park Brake Reset
Enable Air Temp Idle Timer Override
Idle Time In PTO Mode
Enable Clutch Pedal Position Timer Reset Condition
Time Remaining To Shut Down After EIST Warning
Enable Accelerator Position (as timer reset condition)
Enable Foot Brake Position (as timer reset condition)
Enable Clutch Pedal (as timer reset condition)
Enable EIST in PTO mode

Read, reload & download all snapshot & trip reports

Read all chart recorder items

Read & clear all fault codes

Adjust road speed (Paccar charges fee per truck)

Download all log files into Excel or PDF files

Particulate Trap Regeneration

Limitations:

Cannot install software to reprogram engines 

O/S: Win 7 Pro & Win 10 Pro
Computer Specs:
Processor: Intel i3 (upgradable to i5 or i7)
O/S: Win 7 Pro, 32 or 64 bit
RAM: 4 GB
Display: 14 " Anti-Glare
Optical Drive: DVD-ROM
Hard Drive: 250 GB (or higher) Solid State HD upgrade available
Warranty: 90 day warranty
MIL-STD Rating: 810G
Diesel Diagnostic Equipment was founded in 1999 on the principal of providing quality diagnostic equipment to the professional medium & heavy-duty truck technicians.