* Down payment due at signing, dependent on successful credit application. Contact us today for more information.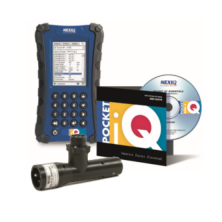 Pocket iQ Brake Link
Whether you're covering a large fleet or monitoring just a truck or two, this smart and handy tool makes it easy to collect critical truck performance data. With the Pocket iQ™ your toolkit, gathering the data you need to keep your trucks running efficiently is quick and simple. The versatile Pocket iQ reports both engine and transmission functions—and it covers brakes, too. It's compact size and user-friendly features take data gathering to the next level.
Key functions and features
Monitors all non-proprietary vehicle data
Checks engine speed/load, pressures, temperatures, and other data
Reads active fault codes
Reads & clears inactive fault codes
Displays trip data
Collects & stores data from multiple vehicles
Stores data in PDF or text format
Provides J1587/J1708 (6 pin) and J1939 (9 pin) data
Includes
Pocket IQ
6 pin & 9 pin connectors
Protective Pouch
Power & Data Cable
Charger
USB Cable
J560 PLC Adapter