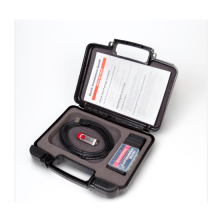 Covers Sprinter based vehicles from 2001 to present.
Other powerful features of this tool include:
Print DTC and IM/Mode 6 data in a customizable report format. Use those reports to walk customers through necessary repairs and upsell optional repairs.
Translated and scaled Mode 6 data. View data in a useable form instead of raw data.
Data logging in two different formats: 1) XML for browsers; and 2) CSV for spread sheets. Whether you logged in XML or CSV, you have the ability to playback and view your logs offline.
Configurable Sensor data. Each individual sensor's sampling rate, ranges, alertable audio trigger points, units, and scaling value can be set to your specific needs.
| | |
| --- | --- |
| Front Left RPM Sensor Gap | Front Right RPM Sensor Gap |
| Rear Left RPM Sensor Gap | Rear Right RPM Sensor Gap |
| Rotation Direction of Left Front Wheel | Rotation Direction of Left Rear Wheel |
| Rotation Direction of Right Front Wheel | Rotation Direction of Right Rear Wheel |
| Wheel Speed at Left Front Axle | Wheel Speed at Left Rear Axle |
| Wheel Speed at Right Front Axle | Wheel Speed at Right Rear Axle |
| Digital Signal from Steering Angle Sensor | Pressure Sensor |
| Steering Angle Sensor | Voltage at Terminal 15 |
| Voltage Return Pump | Voltage Valve Relay |
| Brake Switch | Feedback Gear Signal in Neutral Position |
| Inlet Valve – Left Front Rear Right Diagonal | Inlet Valve – Right Front Rear Left Diagonal |
| Left Front Inlet Valve | Left Front Outlet Valve |
| Left Rear Inlet Valve | Left Rear Outlet Valve |
| Parking Brake Switch | Right Front Inlet Valve |
| Right Front Outlet Valve | Right Rear Inlet Valve |
| Right Rear Outlet Valve | Stop Lamp Switch |
| Switchover Valve – Left Front Rear Right Diagonal | Switchover Valve – Right Front Rear Left Diagonal |
| Part Number Yaw Rate B24/15 1 of 3 | Part Number Yaw Rate B24/15 2 of 3 |
| Part Number Yaw Rate B24/15 3 of 3 | Serial Number Yaw Rate B24/15 1 of 3 |
| Serial Number Yaw Rate B24/15 2 of 3 | Serial Number Yaw Rate B24/15 3 of 3 |
| Status B24/15 – Yaw Rate Lateral and Longitudinal Accereration Sensor | Serial Number ESP Unit N30/4 1 of 3 |
| Serial Number ESP Unit N30/4 2 of 3 | Serial Number ESP Unit N30/4 3 of 3 |