DG Tech Diagnostic Laptop Package - Panasonic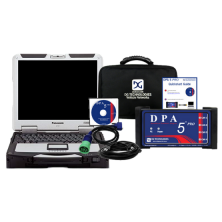 Panasonic Toughbook CF-31
The Panasonic Toughbook 31 is powered for today's user. This refurbished Toughbook has the same great functionality as a new fully rugged laptop but it is now a fraction of the price! Featuring an Intel Core i5 2.4GHz processor this refurbished Toughbook is super fast, coupled with a brand new 500GB Solid State Drive and 8GB RAM your Toughbook 31 can boot up quickly. The Refurbished Toughbook 31 is MIL STD-810G ruggedized, from wind to rain, dust to salt water, bumps and bangs it can go where you go! These computers are in new or almost new appearance with no scratches or dents.
Specifications:    
Refurbished CF31 (no dings or scratches) w/ Intel Core i5
2.4 GHz Intel i5 Processor
8 GB RAM
500GB Solid State Hard Drive
Win 10 Pro
13.1 XGA Daylight Touchscreen Screen
1 year warranty
DPA5 – Dual CAN, USB/BlueTooth Interface
The Dearborn Group DPA5 is a RP1210 and J2534 compliant interface complements OEM software by providing service bay technicians with dealer level diagnostics and reprogramming functionality. Any aftermarket software that is RP1210 or J2534 compliant that uses a DPA 5 protocol can be used with the DPA 5.
The DPA5 is the most rugged Dual CAN RP1210 / J2534 Vehicle Datalink Adapter available.
2-year warranty
Patented screw-in USB cable eliminates loose connections
Supports most OEM RP1210 and J2534 diagnostic/reflashing applications.
Includes a free diagnostics application that supports light-through-heavy-duty vehicles and equipment.  Allows technician to retrieve non-proprietary codes w/o factory software)
Includes:
DPA5 Data Module
Software
USB Cable
6 Pin & 9 Pin Cable
Carry Case
It has been thoroughly tested and validated for coverage on these systems:
Allison DOC
Bendix ACOM
Caterpillar Electronic Technician (On-Highway only)
Cummins Insite
Cummins PowerSpec
Dana Diagnostic Tool
Detroit Diesel Diagnostic Link
Eaton ServiceRanger
Freightliner ServiceLink
GM GDS2
Isuzu IDSS II
Mack VCADS/Tech Tool
Navistar Diamond Logic Builder (DLB)
NAVKAL
Navistar HeRo (Health Report software)
Navistar ServiceMaxx (J1939) (J1708)
Navistar Engine Diagnostics (NED)
Paccar Davie Software
Volvo VCADS/Tech Tool
WABCO Toolbox
ZF-Meritor TransSoft
Standards and Protocol Support
The standards and protocols supported by the DPA 5 are continuously maintained by our team of experts. DG staff members are actively involved in the Truck Maintenance Council's (TMC) RP1210 and Society of Automotive Engineers (SAE) J2534 committees. This enables DG to say up to date with the standards and provide fleets with the best possible solutions to meet their diagnostic and reprogramming needs.
      Protocols Supported:
2 Dual Wire CAN Channels  (J1939/CAN/ISO15765)
J1708 / J1587
ISO9141
ISO14230 / KWP2000
J1850 VPW
Single Wire CAN / J2411
ALDL
Diesel Diagnostic Equipment was founded in 1999 on the principal of providing quality diagnostic equipment to the professional medium & heavy-duty truck technicians.