Tech 2 Package w/GM or Isuzu (North America) Card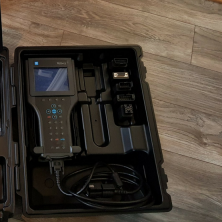 On sale! New New USA (Vetronix) built GM Tech 2 w/ 32 MB memory card loaded with GM or Isuzu (North America) commercial truck info is downloaded onto the card.  This is a dealer level tool with dealer level info loaded onto the memory card.  This is the real McCoy.   Normally this package would sell for over $4000.00.  This Tech 2 includes all the cabling needed for performing diagnostics including the CANdi module for the later vehicles.  Note that this unit was build by Vetronix, which was the premier builder of this unit.  Vetronix was the last USA builder of this unit, they were known for their quality workmanship & durability.
Factory info covers diagnostics for:
Engines
Transmissions
ABS
Version: 27.006 (for USA/Canada)
Language: English
Model Years: 1996-2008
Models (Isuzu): NPR (diesel & gas) NQR, NRR, FRR, FSR, FTR & FVR (including GMC & Chevrolet equivalents)
Models (GM): pre-2012 or 2013 GM cars, light trucks, vans, SUVs, medium duty trucks, etc.
Contents:
70010810 Tech 2 (USA)
3000095   Data Cable
3000096   Cigarette Lighter Power Cable
3000098   OBD2 Connector
3000099   GM Pre-OBD2 Connector
3000109   DLC Loopback Connector
3000110   RS-232 Cable
3000111   DB9 to RJ45 Adapter
3000112   RS-232 Loopback Connector
3000113   120 v AC Power Adapter
3000164   Candi Module
Carry Case