Upgraded Cummins Insite Package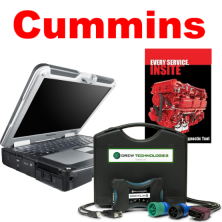 Upgraded Cummins Insite Lite package, pre-loaded on the blazing fast Panasonic CF-31 laptop. With this powerful computer your Cummins Insite program will open in 15-25 seconds.
Upgraded Panasonic CF-31 Toughbook
16GB of RAM
512GB Solid State Hard Drive
Intel i5 2.5GHz
Windows 10
13.1 XGA Daylight Touchscreen Screen
1 year warranty
Cummins INSITE Lite:
INSITE Lite performs engine diagnostics and displays electronic engine information on the laptop screen. With step-by-step diagnostics, built-in engine drawings and schematic diagrams, working with INSITE is easy. Using this software application will reduce troubleshooting time, errors and incorrect procedures and quickly get your vehicle back on the road again.
Features:
Review/clear fault information
Adjust parameters
Quick access to trip information
Easy-to-follow troubleshooting assistance
Wiring and sensor location diagrams
Store engine and trip information for future use, or as programming templates
12 month subscription
All software is installed and activated prior to shipment.
Standard DrewLinQ® Interface Kit
The Standard DrewLinQ Interface Kit for Complete RP1210 Support includes:
DrewLinQ® device
6/9 Deutsch Y Cable
Volvo 2013+ Cable
Crossover Cable
USB Cable