Volvo/Mack Dell Laptop Package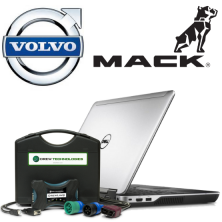 Volvo/Mack Software
Volvo & Mack factory diagnostic software to support 1998 & newer Volvo trucks.  Includes one license & client ID to allow for servicing both Volvo & Mack trucks.  Rather than requiring the Volvo & Mack software to be purchased separately it's now available as a bundle.  Also includes one year of free updates & technical support.
Capabilities:
Read  & Clear Fault Codes
Perform Diagnostics
Perform Testing
Calibrations
Parameter Programming
Orders take 1 week for Volvo or Mack to process
Dell 6440 Laptop
Factory Refurbished Dell Latitude 6440 (semi-rugged rated)
2.26 GHz  Processor (Intel Core i3)
4 GB RAM (8 GB & 16 GB options available)
160 GB HD
Win 10 Pro
CDRW/DVD
13.1 XGA Daylight Touchscreen Screen
90 day warranty
Standard DrewLinQ® Interface Kit
This package includes:
DrewLinQ® device (RP1210)
6/9 Deutsch Y Cable
Volvo 2013+ Cable
Crossover Cable
USB Cable
Diesel Diagnostic Equipment was founded in 1999 on the principal of providing quality diagnostic equipment to the professional medium & heavy-duty truck technicians.