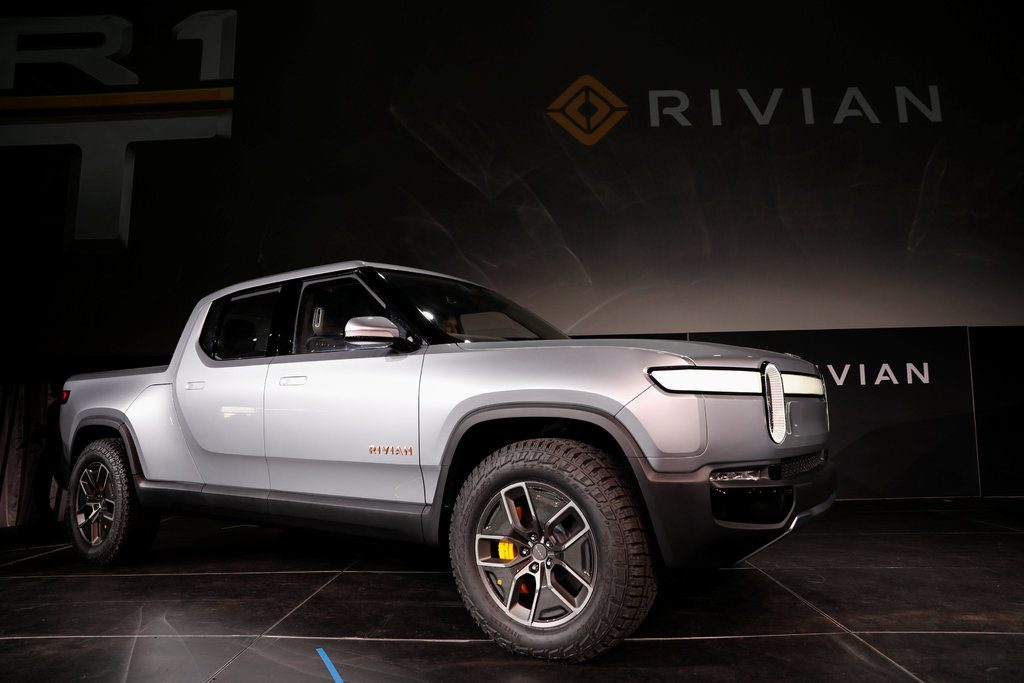 A potential rival to Tesla in electric cars just got a big boost from Amazon.
The online retail giant is leading a $700 million investment in Rivian, a Michigan company that is developing a battery-powered pickup truck and an electric sport utility vehicle. The automaker announced the new round of investment on Friday, offering few details but saying it would remain independent.
Founded in 2009 by an M.I.T.-trained engineer, R. J. Scaringe, Rivian first showed its truck and S.U.V. at the Los Angeles Auto Show in November. The key feature of each is a chassis that is shaped like a skateboard and includes all the components that propel the vehicles — a large battery pack, axles, suspension, cooling system and four electric motors. The company says its pickup will be able to go up to 400 miles on a full charge.
The deal is the latest example of how the auto industry is being reshaped by new technologies and nimble companies that have raced ahead of many traditional carmakers. While General Motors, Ford Motor and others are scrambling to introduce new electric vehicles, Tesla has become by far the leading seller of electric cars in the United States. Waymo, a division of Google's parent company, Alphabet, is considered by some analysts to be the leading developer of autonomous vehicles.
"We're inspired by Rivian's vision for the future of electric transportation," Jeff Wilke, Amazon's chief executive for worldwide consumer, said in a statement. "R. J. has built an impressive organization, with a product portfolio and technology to match. We're thrilled to invest in such an innovative company."
An Amazon spokeswoman declined to elaborate on the thinking behind the Rivian investment.
Since 2015, Amazon has been building out its own logistics network, one that is a "global, end-to-end network covering all transportation modalities," Morgan Stanley said in a research note last month. It owns dozens of planes and has a transoceanic shipping operation, not to mention trucks, rail and other ways to deliver products and packages. The company spent more than $27 billion on worldwide shipping last year.
Amazon relies on contract drivers in passenger cars and trucks to make many last-minute deliveries quicker than it can through delivery partners like the United States Postal Service. Last month, the company said it was testing a delivery device called Scout, which is the size of a large ice chest that can "roll along sidewalks at a walking pace." The company says it is using the devices to deliver packages to customers in a suburb near Amazon's Seattle headquarters.
The company ordered 20,000 Mercedes-Benz vans last year for its delivery partners to shuttle Amazon products to consumers, but those vans run on diesel, a fossil fuel. The company has also been facing pressure from employees looking to reduce its environmental impact, particularly in its logistics operations.
And last week, Amazon made a "significant" investment in Aurora, a California start-up that is developing self-driving technology. Aurora is led by Chris Urmson, who previously headed Alphabet's autonomous car effort.
"For Amazon, this small investment is a good way to enlarge their bet on the E.V. automotive market without having to tool up a plant to find out if it will fly," said Matt DeLorenzo, senior managing editor of Kelley Blue Book. "Over time, the Rivian investment could give Amazon a starting point to own and operate an in-house package delivery business."
Rivian previously raised about $500 million from Sumitomo, a Japanese conglomerate known for its tire division, and Abdul Latif Jameel, a Saudi industrial group. Those earlier investors also took part in the new investment round, though the companies did not say how much money they put in.
At the Los Angeles show, Mr. Scaringe described the company's pickup, the R1T, and its S.U.V., the R1S, as upscale vehicles that could be used for off-road adventures. They are intended to compete for motorists who buy pricey Land Rovers and Porsche S.U.V.s. Rivian's vehicles are expected to sell for $68,000 or more.
"This is a vehicle you can use," Mr. Scaringe said. "You can get it dirty, but it's still a very thoughtful, intelligent design."
Both vehicles may end up competing directly with Tesla models. Tesla already offers an S.U.V., the Model X, and is working on a pickup truck and a smaller S.U.V. Rivian has said it aims to sell about 20,000 vehicles in 2021 and double that in 2022. Last year, Tesla sold about 245,000 cars.
Analysts said Rivian's success was by no means assured.
"They still face all the hurdles," said Karl Brauer, executive publisher at Cox Automotive. "They have to produce the vehicles. They have to deliver the vehicles. Tesla has been around longer, but it's still struggling to set up a dealer network and is struggling with high-volume production."
Rivian has kept a low profile, especially compared with Tesla and its flamboyant chief executive, Elon Musk. Until recently, to keep its operations secret, Rivian did not display its name on its buildings. While Mr. Scaringe has a Twitter account, he has posted only 87 tweets — a small fraction of Mr. Musk's nearly 7,000.
And while Tesla and Mr. Musk regularly make headlines, relatively little is known about Mr. Scaringe, who is 36. He grew up near Melbourne, Fla.; studied at Rensselaer Polytechnic Institute; and earned a doctorate in mechanical engineering at the Massachusetts Institute of Technology.