Cummins Inline 7 Standard Dealer Interface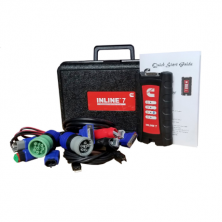 wCummins INLINE 7
The Cummins Inline 7 is a highly reliable datalink adapter that can be used with many applications to communicate with various vehicle systems.  It is designed to be used with RP1210 compliant software with these connectors:
6 pin (J1708 / J15870)
9 pin (J1939)
OBD2
Supports all Cummins electronic engines.  Can also be used with all other RP1210 software such as:
Caterpillar (on-road)
Detroit
Allison
Navistar
WABCO
Bendix
Eaton
Freightliner
etc.
The INLINE 7 adapter communicates with your PC using a:
USB cable through a standard USB connector
WiFi
Bluetooth
Cummins was among the first to release an adapter with all three connection options. INLINE 7 is fully compliant with the TMC RP1210 standard, and also offers 250 and 500 K baud support, including up to 1 megabaud support.
Functions with a wide array of Cummins, OEM and third-party service and information tools
Fully compliant with the Technology and Maintenance Council's RP1210 standard
Protocols supported: 
J1708/J1587
J1939 (250K, 500K, or 1 MB)
CAN (125K, 250K, 500K, 1 MB)
(3 CAN channels with Auto Baud)
ISO 9141
ISO 14230 (KWP2000)
ISO 15765
Requirements
1GHz processor or more
RAM: 512MB RAM  (1 GB recommended)
USB port, version 1.1 or higher
Wi-Fi card
Package Includes:
Inline 6 Data Module
Data Module Protective Boot
USB Cable
9 Pin Data Cable
Inline 6 Driver CD
J1939 (3 pin male) Backbone Adapter
J1939 (3 Pin female) Gender Change Adapter
DB25F 2 Pin & 3 Pin Cable
Storage Case
Manuafacturer reserves the right to make changes without prior notice