Panasonic CF-31 - Pro Package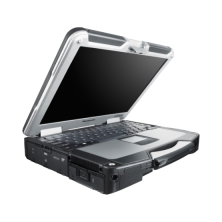 Panasonic CF-31 – Pro Package
The Panasonic Toughbook 31 is powered for today's user. This refurbished Toughbook has the same great functionality as a new fully rugged laptop but it is now a fraction of the price!  Featuring an Intel Core i5 2.7GHz processor this refurbished Toughbook is super fast, coupled with a brand new 250GB Solid State Drive and 16GB RAM your Toughbook 31 can boot up quickly.  No matter your demands for truck diagnostic software, this Panasonic CF-31 has the speed & power to handle it with ease.  Tired of waiting for what seems like forever for your Cummins Insite to open?  This computer is your solution, as it opens Insite in an average of 20 seconds!  In fact, this computer was specifically designed to handle the problem of slow opening Insite programs.
  We are so confident in the durability of this CF-31 computer that we provide it with the same 3 year warranty as a new CF-31.  
This refurbished Toughbook 31 meets MIL STD-810G standards, from drop tests, vibration testing, wind, rain, dust & dirt, it's designed to handle the rigors of shop & field use. 
These computers are in "Like New" appearance with no dings or dents.
Details
Refurbished Panasonic CF-31
2.7 GHz Intel i5 Processor
16 GB RAM
250 GB Solid State Hard Drive
Windows 10 Professional
13.1 XGA Daylight Touchscreen Screen
3 year limited warranty